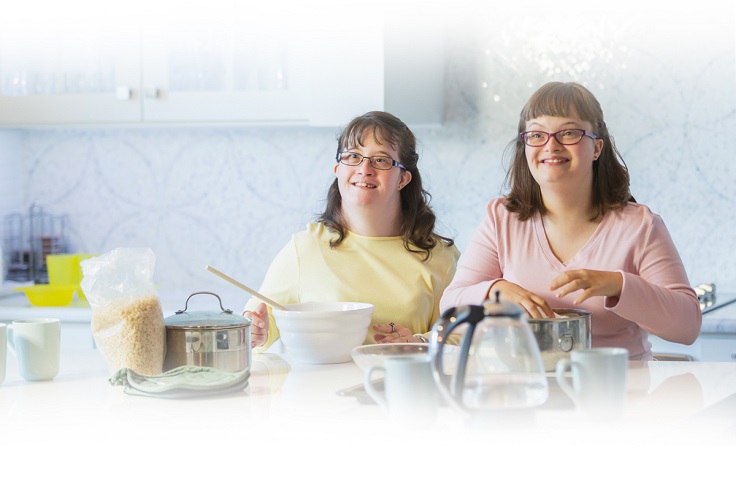 What We Do
Spectrum Community Services was established to provide community-based, residential treatment for individuals with intellectual and developmental disabilities and mental illness. We specialize in providing community integration services in residential homes specifically for individuals with intellectual, developmental, mental and physical disabilities. Mental health services and special assistance are provided within their own community utilizing local resources. We also provide training to build daily living skills to help the individual reach their maximum level of independence.
We operate 49 licensed residential programs, 36 semi-independent living programs and many in-home community living support settings. The individuals we serve live in Antrim, Benzie, Berrien, Ionia, Kent, Manistee, Mason, Missaukee, Oakland, Otsego, Washtenaw, Wayne and Wexford counties.
Affiliations
American Association of Intellectual and Developmental Disabilities
Mental Health Association of Michigan
Michigan Association of Community Mental Health
Michigan Assisted Living Association
CARF International (Commission on Accreditation of Rehabilitation Facilities)


Addressing Needs
Spectrum Community Services focuses services to meet the needs of individuals and their families based on the Individual Plan of Service. We hold regular meetings with the person served, family members and guardians of the person served to gain input, hear their opinions and understand their needs.
The individuals served participate in house meetings to the best of their abilities to discuss topic such as:
Community activities
House Routines
Social Interactions
Ideas and opinions about the functioning of the house
We regularly survey the individuals served and their guardians and are proud to report scoring a 96% satisfaction with our services on our last survey. The survey is shared with our stakeholders and any area of concern will be addressed and used to create our Quality Improvement Plan.
Spectrum Community Services has a formal Continuous Quality Improvement Plan that is reviewed by the Board of Directors and all employees quarterly and annually. There are three categories of focus: Person Served, Employees and Agency Operations. The yearly initiative are developed from an annual review of trends from data collected throughout the previous year.
Under each of these categories, the agency has identified goals with region-specific objectives. The plan is analyzed annually to look for trends and improvements. Any goals or objectives not met are analyzed to determine barriers that prevent success and look at what we need to address in the next year. Many improvements have occurred with this process and have helped to focus employees on the direction of the agency and the services that are provided to the individual.
Spectrum Community Services works under a five year Strategic Plan. There are four key goals of focus:
Provider of Choice
Employer of Choice
Creates and delivers innovative services
To be fiscally sound
The plan helps direct the agency to move forward in providing services and ensuring we are in the know on state trends and where service opportunities may be in the future.
Creating Successes
LaShawnda's Success Story
In January 2009 our friend, LaShawnda, moved into the Myers Lake specialized group home through Spectrum Community Services. She was referred to Spectrum by her home county, Clinton-Eaton-Ingham. They were unable to find an in county placement for her given a lengthy history of failed placements and a high need for staff support due to behavioral challenges.
Early in her life, LaShawnda grew up in Detroit while living in a car with her mother and brother. From there, she moved from foster homes, to AFC homes, to psychiatric hospitals. After one placement after another, nothing seemed to be working out for her. She had two failed adoptions and had been abused, neglected, and humiliated in many settings, by many different care givers.
LaShawnda moved into the Myers Lake group home and remained there for three years. She certainly had her ups and downs throughout this placement, but it ended up being the longest, most stable placement she had in her entire life. Due to her progress and encouragement from staff, LaShawnda was considered for more independent living.
She moved to Hidden Lakes Apartment complex, living with one other roommate. She worked with CLS staff and began working towards her goals. LaShawnda has continued to make progress on her personal goals and has experienced less anxiety when working with new staff and trying new things that may be out of her comfort zone.
LaShawnda is very loving and has become a great advocate for the others who live in the apartments. She has joined group counseling (something she adamantly refused in the past) and is a leader in the group. She shares her experiences and gives others hope that they can become more independent.
In January 2014, LaShawnda celebrated living in her apartment for 2 years!
Recently, LaShawnda was the speaker for a Diversity Class held at Spectrum's Western Regional Office. She spoke to Spectrum staff about her personal journey – which gave hope and encouragement to many staff members, who often times wonder how their job can impact someone's life.
Misty's Success Story
Our friend Misty came to Spectrum Community Services 15 years ago. She began living in an institutional setting and was receiving 24/7 services with many other girls under the age of 18. When she moved out of the institutional setting at the age of 18, Spectrum was there to support her and brought her to a new home with another roommate.
Living in their own apartment, Misty and her roommate continued to receive 24/7 services from Spectrum. After Misty was able to finish high school, she began to focus on learning important living skills that would help her transition to life on her own. Over the next 4 years, Misty was able to clean her own apartment, shop and prepare her own meals and manage her personal finances – which included paying her own bills.
Misty was also successful in other areas of her personal growth. She always had a smile and was very personable but often times felt shy and did not feel comfortable speaking to people. Spectrum was able to work with her on her social skills and helped her get more involved in her community and at social events. As she was able to meet her goals, she started to feel more comfortable in social settings. It wasn't long before she grew to love it. She continued to work on her life skills with Spectrum and she was becoming more and more self-sufficient.
Soon after, she began looking towards the next important step in her life – finding full time employment. After exploring her options around town (with staff assistance) she quickly landed a job at Kroger. Misty soon came to the realization that her life was really changing for the better. Her employment at Kroger gave her the opportunity to become an independent person and it was becoming more and more apparent that she no longer needed staffing.
Today, she commutes back and forth to Kroger and is always on time – she never wants to miss a day of work. She has taken on total responsibility for her life. The opportunity at Kroger was exactly what Misty had set out to do and has allowed her to become completely independent.
We are very proud of Misty and all that she has accomplished in her life!
Join the Team
Our mission is to empower, strengthen and enhance individuals, families and communities.
If you are passionate about changing the lives of children, families or people with more profound needs, Spectrum offers a variety of experiences in human services. You are taking an important step toward making a difference.
Through our portal, you will be able to create a profile and explore a variety of careers serving people directly or supporting those that do, through professional and administrative support positions. Spectrum provides great opportunities for training, professional growth and advancement. Through the candidate portal, you can attach your resume' for future reference for other opportunities as well.
Spectrum Human Services Inc. & Affiliated Companies strives to be the Employer of Choice. In addition to competitive wages, full-time employees are eligible for an array of benefits, including: health insurance, dental, vision, life insurance, short-term disability, and participation in the company's 403(b) program.
It is the policy of Spectrum Human Services to provide equal employment opportunity (EEO) to all persons regardless of age, color, national origin, citizenship status, physical or mental disability, race, religion, creed, gender, sex, sexual orientation, gender identity and/or expression, marital status, genetic information, status with regard to public assistance, veteran status, or any other characteristic protected by federal, state or local law. In addition, Spectrum will provide reasonable accommodations for qualified individuals with disabilities.
Note: This opens in a new window
Mission and Vision
Our mission
Providing a Spectrum of Quality Services and Life Enhancing Opportunities for Individuals in the Community

Our vision
We believe that every person, as a valued member of the human community is entitled to dignity and respect. We believe that all people have the right to receive services which support them in achieving their highest potential. Spectrum's commitment is to provide a range of innovative quality services which demonstrate cultural competency in partnership with individuals and their families. We believe these services will empower them to make choices in their lives to achieve their maximum capabilities.
© 2019 Spectrum Human Services, Inc. & Affiliated companies. All Rights Reserved.